What does it take to be a Ninja Warrior? Just ask PoP club leader and American Ninja Warrior competitor Mike! Mike is on a mission to inspire change by raising awareness for Pencils of Promise on NBC's notorious obstacle challenge. Mike's efforts alongside his friend, Jason, have gotten our attention and earned them the title of #PoPNinjas.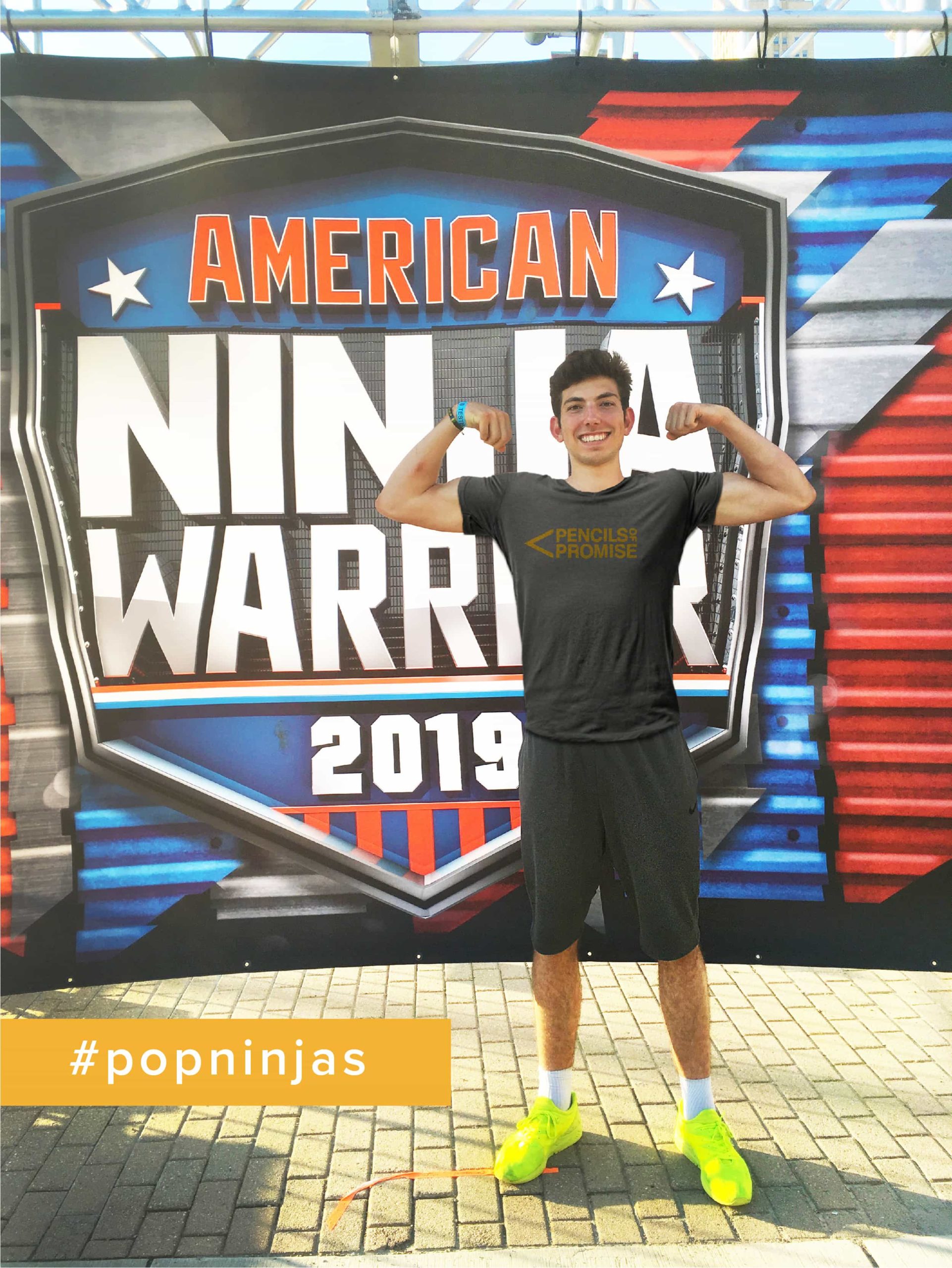 Meet Mike
Mike is showing us that there is no feat too great in support of global education. As he says: "Growth comes from discomfort. No one really knows what we're doing in this life. It's all about embracing that uncertainty and learning on the fly. When I remember my purpose for doing this and the children I met in Laos this past November, the fear temporarily falls away."
Mike and his friend, Jason, became supporters of PoP a few years ago and have been advocating for education ever since. PoP's message reached across campuses to connect these PoP supporters and good friends.

PoP's message reached across campuses to connect these two PoP supporters and good friends, who have now been long time PoP supporters and advocates for global education.
Mike, a student at Creighton University, first heard of PoP while volunteering in Cape Town, South Africa when his friend, Sarah, suggested he read Adam Braun's book 'The Promise of a Pencil'. He was hooked. He learned that Sarah's good friend, Jason, had just started a PoP Club at SLU. Mike was energized by the prospect of starting a club at his school as well.
Meet Jason
Jason, a student at Saint Louis University (SLU), was initially drawn to PoP's multi-faceted approach to literacy and launched a PoP Club at his university. Jason viewed SLU's PoP club as an opportunity to merge his interest in business with impact-driven work.
PoP Clubs
As students themselves, Jason and Mike have a powerful connection to education. Both have found tremendous value in being part of PoP clubs. As Jason says: "university offers many opportunities to make an impact on a micro-level, but there are fewer opportunities to approach macro-level impact work. In a PoP club, we have the opportunity to contribute to positive change on a larger scale".
The two have harnessed the strength of collaboration. Jason and Mike regularly FaceTime to plan events and mobilize their communities in support for Pencils of Promise. Since 2017, the duo's respective PoP Clubs have engaged in a number of creative initiatives to raise awareness of educational disparities and fundraise to support PoP's work in Ghana, Guatemala and Laos.
Under Jason and Mike's guidance, the SLU and Omaha PoP Club chapters recently took on a March Madness bracket challenge fundraiser and hope to engage other schools' PoP Clubs in the future. Last year, the SLU PoP Club launched the #CelebratingEducation campaign to honor champions of education in their local community. The Omaha PoP Club recently hosted a dress down day, which engaged over 6,000 students in the Omaha area.
Follow the #PoPNinjas
So what's next for Jason and Mike? Jason is looking forward to continuing to explore his interest in "the crossroads of business, social justice and education." Mike was recently accepted to NBC's American Ninja Warrior and his episode airs on Monday 17 June. He hopes to put a national spotlight on global education disparities and continue raising money for Omaha PoP's school campaign in Laos.
Together, Jason and Michael have transformed their shared interest in education into a movement that is mobilizing communities and supporting education across the globe. Thank you, Jason and Michael, for acting as incredible advocates for education and proving that one connection can have an important impact.
To show your support for Mike's bravery on American Ninja Warrior, please visit his fundraising page.
---
Our #PoPFam is always growing. We'd love for you to join us.
Learn more about starting a PoP Club at your school here, or send an email to team@pencilsofpromise.org.